It's back-to-school season and educators around the country and world are diving into the new school year. With the global pandemic, 2020 has been an unusual year, leading to even more educators turning to online ways to deliver assignments and instruct their students, and a higher volume of questions coming in. We took a look at some of the most popular questions coming into our support lines. You'll find these questions and their answers below.
Quick note: If you are new to Edulastic, our 2020-2021 Quick Start Guide will walk you through how to get started in less than 15 minutes. Visit the Edulastic Resources page for training options, tutorials, and learning tools.
Edulastic Frequently Asked Questions
FAQ 1
Q: How do I Find my Assessments and Items that I authored or edited?
A: To find assessments that you've created, go to the Test library, clear the filters, and be sure you have selected "Authored by Me". Learn more.
To find items that you've created, do the same thing in the Item Bank.

If you are having trouble finding assessments that you created or assigned last year, there are two places you can find them:
All previously assigned tests will be stored in a folder on the bottom left of the Assignments page. Go to Assignments, open the filters (inverted triangle icon on the top left of the page) and look to the folders at the bottom.


Similarly, you can go to the Assignments page, set the school year filters for 2019-20 school year. This will generate a list of all assignments you gave the previous year. When you have located the assignment, open the Action button (far right of the assessment title) and Preview Details. This will bring up your assessment.
---
FAQ 2
Q: How do I enable Scratchpad? I don't see it on the preview and want to make sure my students can access the Scratchpad.
A: The scratchpad gives students a chance to show their work on Edulastic. By default, it's available to students on every question. Right now it's not available on the teacher preview of a student assessment, but if you were to log in on a student account you'd see it.

Educators with Premium accounts can choose to turn off scratchpad if they don't want students using it. The control is located at the bottom of Test Settings. Turning the Scratchpad off removes it for ALL questions on the test.
If you have Teacher Premium, you can turn off the scratchpad by clicking " "show advanced options" in Test Settings.
---
FAQ 3
Q: How do I add my content to folders?
A: In Edulastic, you can create and edit folders in the Assignments Tab and in the Test Library.
In the Assignments Tab, you can add tests, quizzes, and lessons that you've assigned to students to folders. To do so, open up the filters on the left and click on "folders".
In the Test Library, you can add assignments and tests to folders to keep things neat and tidy! To do so, head to the Test Library and adjust the view to "List View". Then, select the test you'd like to organize, hit "actions", then "add to folder".
Looking for another effective way to organize and find your drafts or published content in the library? Use tags!
Tags, or searchable keywords, can be added to tests, classes, and student groups. When a group of teachers or a whole district is using tags, it makes searching for content in Edulastic more effective. Learn more.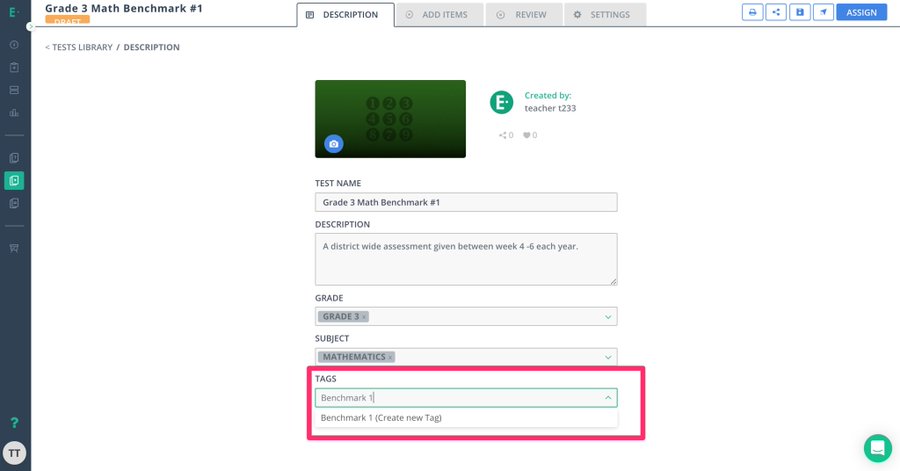 ---
FAQ 4
Q: How do I add a Co-Teacher?
A: The co-teacher feature gives another teacher the ability to work with your class and students the same way you do: assigning assessments, grading, etc.
Visit the manage class page and click the big blue button in the upper right corner to add your co-teacher.
The ability to share a class with a co-teacher is available in both the free and Edulastic Enterprise versions. Learn more.
---
FAQ 5
Q: How do I send an assignment back to a student who needs a retake or was absent?
A: Use the Redirect option available on the Live Class Board to reopen the assessment for all of your students or select students. See our help article for more information on where to locate this option and the differences of Redirect on Free and Premium accounts.
https://edulastic.zendesk.com/hc/en-us/articles/360041581231-Redo-Reassign-Reopen-Use-Redirect
When you Redirect from a Free account, students can see their previous answers but none of the scoring. For Premium accounts, you can redirect and choose from any of the following options:
Score and Feedback – Students will see whether or not they got a question right and any feedback the teacher has provided on those questions.
Student Response & Feedback – Students will see their previous response and any feedback the teacher has provided on those questions.
Feedback Only – Students will see any feedback the teacher has provided on those questions.
FAQ 6
Q: What do students see after they complete an assignment?
A: What students see depends on the test settings and whether you have a Free or Premium account. Go to the "Release Scores" options in the "test settings" when assigning an assessment.
---
Back to School 2020 Updates
Curious to learn more about what's new for this school year? Check out the new changes and features in our Back to School announcements:
---
Have a question you don't see answered here?